The Bento Society #23: Introducing Bento Groups
Hi there and welcome to The Bento Society. My name is Yancey Strickler. How's everybody doing today?
First, our schedule for this week:
Come together and plan for the week ahead.
Look back on the week.
Come together and plan for the week ahead.
Introducing Bento Groups
In a recent post on the difficult place we currently find ourselves in, I shared what the authors of the prescient book Limits To Growth said are the five steps to creating a better world. They are:
Visioning

Networking

Truth-telling

Learning

Loving
The authors admitted these steps sounded small in the face of our enormous challenges. Still, they were firm in their belief that this was how a better path would begin.
Today we're introducing a new Bento Society project that aims to help create these conditions: Bento Groups.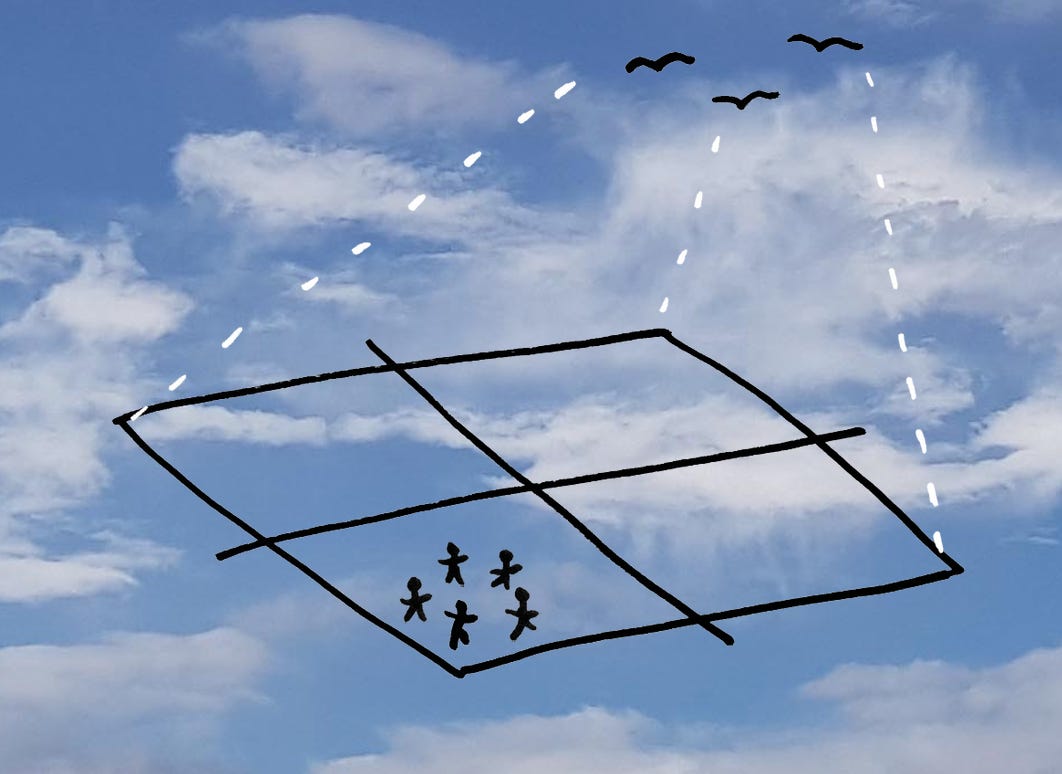 A Bento Group is a community of 4-10 people who meet on a weekly basis to share and learn together. It's an intimate space for people to explore their goals and values, dig deep into challenges and larger issues, and experiment with potential futures.
A Bento Group "season" lasts twelve weeks. Each week, Bento Groups are sent prompts and exercises that guide a longer journey. Things like:
Future Concepting: Using the Bento and our imaginations to generate speculative futures and potential solutions to major challenges.

Draw Your Life: A creative dive into our personal histories. What shaped us? What are we proudest of? What superpowers do we secretly possess?

The Trust: Bringing a challenge or opportunity to the group for ideas or feedback.
---
---
Here's how it works:
Groups meet for one hour on Wednesdays (you choose a weekly time that fits your schedule)

Groups receive weekly prompts from The Bento Society that guide a progressive journey

Each meeting has a Facilitator, Recorder, and Timekeeper (these roles rotate between members of the group each week)

You can try before committing, but once you commit you're expected to attend for the full 12 weeks

Bento Groups are free
The first cohort of Bento Groups (four groups, thirty people between them) got underway this past week. (You can check out the Week One itinerary to see what we did.) The final Groups of this first cohort will start this week.
If you're interested in joining one, click here.
Our hope is that Bento Groups can become a tangible step towards personal and collective transformation. An hour on our schedules to close the gap between where we are and where we want to be. A place to connect with truth-seeking peers from around the world. (Members of my Bento Group live in Amsterdam, Geneva, London, Los Angeles, Minneapolis, NYC, Singapore, and Vancouver. Other groups are equally global.)
Like all Bento Society projects, Bento Groups are an experiment. They're an experiment in intentional community building. An experiment in perspective shifting. An experiment in personal and collective manifestation. An experiment that we hope will produce results for all of us.
If you're interested in joining a Bento Group, click here:
---
Two quotes I read this week that I'm still thinking about:
"Analyzing audiotapes of strategic-planning meetings, [Lippitt] concluded that problem-solving depresses people. A key feature of the Schindler-Rainman/Lippitt conferences was having people create "images of potential" of the future rather than fix problems from the past. Moreover they devised an energizing proposal for bringing preferred futures to life, asking people to dramatize their dreams as if they had already come true. This led to optimism and high energy."— From a book called Future Search
---
"Our way, the way, is not a random path. Our way begins from coherent understanding. It is a way that aims at preserving knowledge of who we are, knowledge of the best way we have found to relate each to each, each to all, ourselves to other peoples, all to our surroundings. If our individual lives have a worthwhile aim, that aim should be a purpose inseparable from the way... Our way is reciprocity. The way is wholeness." — Ayi Kwei Armah, Two Thousand Seasons (found in Alice Walker's Living By the Word)
Peace and love my friends,
Yancey
The Bento Society
---
The Bento Society is a collective project with a thirty-year mission to redefine what the world sees as valuable and in its self-interest.
Bentoism.org
The Weekly Bento
Group Bentos
This Could Be Our Future